Die Million Dollar Mamas: Snip O Gun und Princess in Diamonds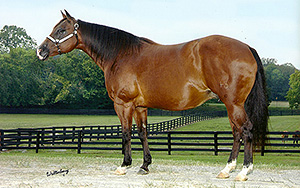 Es gibt zwei neue Zuchtstuten, deren Nachkommen die Millionen Dollar Marke übersprungen haben: Snip O Gun und Princess In Diamonds.
Snip O Gun
Die 1993 Stute von One Gun aus der Miss Kim O Lena stammt aus der Zucht von R.H. und R.H. Clements Jr., Minor Hill, Texas, und ist im Besitz der Hilldale Farm. Ihre besten Nachkommen bisher sind Big Chex To Cash ($219,265, by Nu Chex To Cash); Inferno Sixty Six ($216,165, by Gunnatrashya); und Hot Smokin Chex ($189,574, by Nu Chex To Cash).
Princess In Diamonds
Princess in Diamonds stammt von Shining Spark aus der Eyed Be A Princess (by Eyed Be Impressive) und wurde von Gay Owens, Ann Arbor, Michigan, gezüchtet. Die Stute gewann selbst $ 77.003 in der Reiningarena und war u.a. Vierte auf der 2001 NRHA Futurity unter Todd Crawford. Die brachte 28 money-winner mit einer Durchschnitts-Gewinnsumme von $48,092. Ihre besten Nachkomme sind NRHA Derby Open Co-Reserve Champion Whizkey N Diamonds ($224,020, by Topsail Whiz); National Reining Breeders Classic (NRBC) Derby Open Champion Cromed Out Mercedes ($147,021, by Custom Crome); und NRBC Levels 3, 2 und 1 Non-Pro Champion Surprizentheprincess ($143,021, by Jerry Lees Surprize).
Beide Stuten sind in der NRHA Hall of Fame. Weitere 1 Million Dollar Dams laut EquiStat sind Ebony Shines und Dun It For Chex.
Quelle: QHN