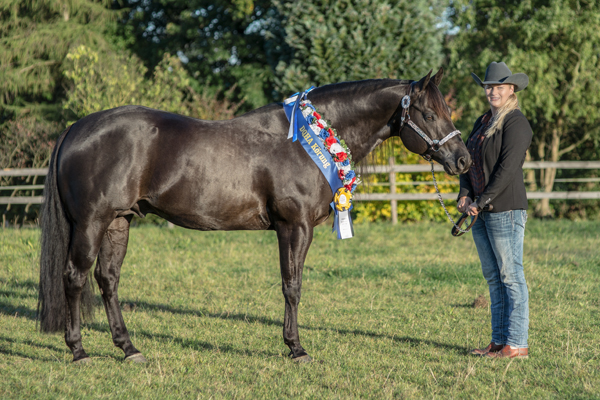 Die AMERICANA Decksprungversteigerung wartet in diesem Jahr mit ganz besonderen Leckerbissen auf: Sieben American Quarter Horse Hengste sind im Angebot, die allesamt nicht nur von überragender Abstammung sind, sondern sich vor allem im großen Sport bewährt haben oder noch bewähren- und deren gesamte Gewinnsumme sich aktuell auf über $ 843.000 beläuft. Die Hengste werden einzeln im Detail auf www.americana.de vorgestellt.
2011 AQHA Stallion ARC Gunna Sparkya
Gunnatrashya x Sailing Spark (by Shining Spark)
(NRHA Lte.$119,000),
u.a. NRBC L4 Open Reserve Champion 2015, NRHA Futurity Open L4 3rd
Bes. Vittorio Rabboni, Rabboni Reininghorses, Itlay;
2008 AQHA Stallion Best Spook
Smart Spook x Best Stop (by Custom Crome)
(NRHA Lte.$11.000+),
u.a. Multiple Bronze Trophy Champion Open- or Non Pro, AQHA European Champion Sr Reining Open, NRHA Derby Champion Non Pro & Ltd Non Pro, NRW Derby Champion Non Pro, multiple Futurity & Derby finalist Open & Non Pro, multiple AQHA Amateur Reining Champion, DQHA Körungssieger 2016: Körnote 90,9 %
Bes. Britta Grönemeyer, Germany
2013 AQHA Stallion Dun It For Whizkey
Topsail Whiz x Dun It For Chex (by Hollywood Dun It)
(NRHA Lte. $ 231.000+),
u.a. 2016 NRHA Open Futurity Co-Reserve Champion, Congress Open Futurity Champion und Tulsa Open Futurity Champion, 2019 NRHA Derby Open L4 Go Round Leader (Score 229), 7th in the finals
Bes. Cardinal Hill Training Center, LLC, USA
2008 AQHA Stallion High Roller Whiz
West Coast Whiz x Gettinsmart (by Smart Chic Olena)
(NRHA Lte.$127.000+),
u.a. 2013 AQHA World Champion Jr Reining, NRBC & NRHA Derby Open Finalist, 2018 WEG Tryon, North Carolina, Finalist (Team Israel), 2014 NRHA Open Derby 3rd, 2014 NRBC Open Derby 6th
Bes. Stoney & Stuart Russell USA, Agent: Almut Cooper, Germany
2009 AQHA Stallion Mr Electric Spark
Jacs Electric Spark x Sailin Rowdy (by Rowdy Yankee)
(NRHA Lte.$102.700+),
u.a. NRBC L4 Finalist 2014 und 2015, NRHA Derby L4 finalist 2014 und 2015, Reining By The Bay L4 Champion, FEI World Reining Championships Finalist 2016
Besitzer: Pamela Nelson, Foothills Farms, USA, Agent: Kari Klingenberg & Daniel Schlömer, USA
2009 AQHA Stallion Steppin On Sparks
Jacs Electric Spark x Mahoganys First Step (by Wimpys Little Step)
(NRHA LTE. $ 108.000+)
u.a. NRHA Futurity, NRBC und NRHA Derby Finalist Open L4 und L3, All American Quarter Horse Congress Junior Reining Champion,. AQHA World Show 3rd, NRHA Derby Open 2015 Go round Leader und 7th L4 final, AQHA World Show 2015 Sr. Reining 3rd
Bes. HDC Quarter Horses

2009 AQHA / APHA Stallion Yankee Gun
Rowdy Yankee x Snow Gun (By Colonels Smoking Gun)
(NRHA Lte.$145.500+),
u.a. 2012 All-American Quarter Horse Congress Futurity Open Champion,
2013 Florida Classic Derby Open Champion, 2014 All-American Quarter Horse Congress Open Champion, 2015 NRHA European Derby L4 Open Finalist 4th, 2015 IRHA Maturity Open Reserve Champion, 2016 SVAG FEI World Reining Champion
Bes. Miele Performance Horses, Agent: Gennaro Lendi, Italy
Von jedem dieser Hengste kann der ambitionierte Züchter auf der AMERICANA 2019 einen Decksprung ersteigern. Von High Roller Whiz stehen sogar zwei Decksprünge zur Verfügung. Die Versteigerung findet am Samstag, den 7. September 2019 um 17 Uhr in Halle 4 statt. Wer bei der Versteigerung nicht anwesend sein kann, kann sein Gebot auch am Stand der Stallion Promotion bis zwei Stunden vor der Versteigerung abgeben. Bis einschließlich Freitag, den 6.9., können die Angebote bis 18 Uhr auch online abgegeben werden. Das Gebotsformular ist auf www.americana.de zu finden (unter Stallion Promotion).
Tickets online buchen Tickets für die Abendshows und für den Tagesbesuch gibt es unter www.americana.de. Bestellungen können aber auch telefonisch unter 01806 – 999 0000 getätigt werden