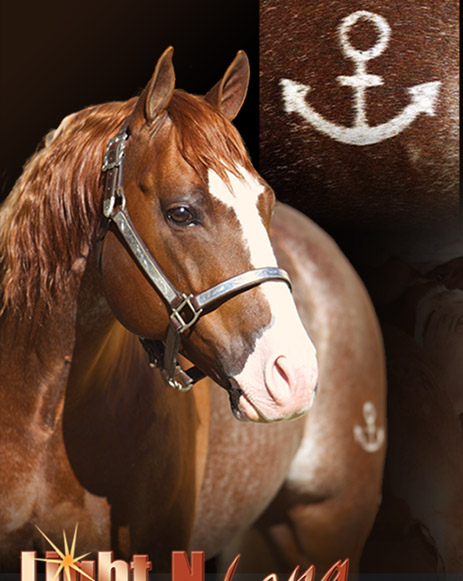 Am 2. November musste der Equi-Stat $2 Million Sire Light N Lena im Alter von 18 Jahren eingeschläfert werden.   Light N Lena war ein Sohn von Grays Starlight aus der Little Missie Lena von Smart Little Lena und stammte aus der Zucht von Melissa und Jay Gribble,  Rosston, Texas. Der Hengst war im Besitz von Billy und Kris Martins 72 Ranch. Unter Sean Flynn war er 2003 National Cutting Horse Association (NCHA) Futurity Open Semi-Finalist. Unter anderem war er Brazos Bash Derby Open Reserve Champion und Vierter im NCHA Summer Spectacular Derby Non-Pro. Insgesamt brachte er es auf $ 165.076 (Equi-Stat).
Light N Lenas erster Fohlenjahrgang kam 2005 auf die Welt. Es handelte sich lediglich um 9 Fohlen, aber unter ihnen war Laredo Montana (aus der Little Memory Maker x Peppy San Badger), der es auf über $ 228,000 in der Cutting Arena brachte und u.a. . 2009 NCHA Summer Spectacular Derby Non-Pro Champion, 2011 NCHA Super Stakes Classic Non-Pro Reserve Champion, 2011 NCHA Summer Spectacular Classic/Challenge Non-Pro Reserve Champion und zweifacher Mercuria/NCHA World Series of Cutting Non-Pro Champion war
Light N Lena erfolgreichste Nachkommen sind der 2009 geborene Wallach Buzzted ($293,874, out of Honey Bee Time x Peptotime), der u.a. 2013 NCHA Summer Spectacular Derby Open Champion war. und die 2007 geborene Stute Light N Lily ($286,640, out of Meradas Oh Cay x Freckles Merada) war.
Quelle: QHN