31. FEQHA European Championship of American Quarter Horses mit 310 Pferden aus ganz Europa und 4268 Entries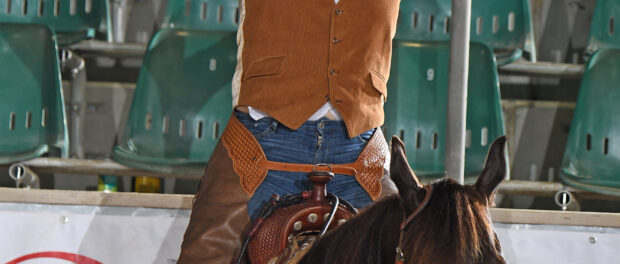 (RB) Die Begeisterung und die Freude, endlich wieder seine Pferde auf großem Parkett vorstellen zu können, war überall auf dieser EM zu spüren. 310 American Quarter Horses aus ganz Europa waren gemeldet. Allein in den Level 1 Klassen mit zwei Richtern kamen damit 1000 Entries zusammen, in der 4-fach AQHA Show weitere 3268 Entries. Insbesondere die Disziplinen Trail und Western Riding erfreuten sich gewaltiger Nachfrage (z. B. Senior Trail mit 50 Pferden). Doch auch die Western Pleasure und Hunter Klassen sowie die Showmanship waren bestens bestückt – und das nicht nur zahlenmäßig. Die Qualität der vorgestellten Pferde war herausragend, was auch für die ebenfalls gut besuchten Halter Shows galt.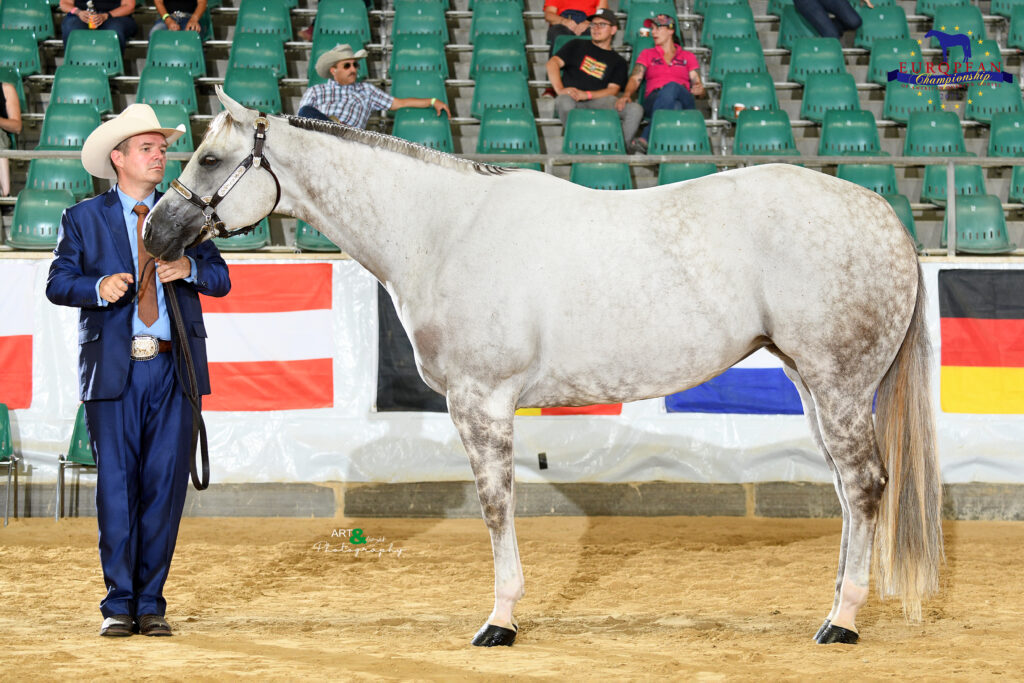 Eine Neuheit auf dieser European Championship waren die Jungpferde Klassen Longe Line und Trail in Hand, jeweils für 2- bzw. 3-jährige Pferde. Diese Klassen werden erst 2022 offizielle AQHA-Klassen. Doch die FEQHA hatte die Entwicklung vorweggenommen und bereits in diesem Jahr vier Europameistertitel vergeben. Auch die NSBA führte ihre Western Pleasure und Hunter Futurity wieder im Rahmen der European Championship durch und brillierte durch starke und bemerkenswerte Klassen. Ein weiteres Highlight war der FEQHA European Team Cup. Der Amateur Cup fiel leider mangels Beteiligung aus, dafür fanden sich aber vier starke Jugendmannschaften.
Im Youth Team Cup setzte sich Deutschland mit fünf Teilnehmern überlegen mit 211 Punkten gegen Italien mit 172 Punkten durch. Die Schweiz wurde ganz knapp dahinter (171) Dritter. Beide Nationen hatten jeweils vier Teilnehmer am Start. Die Niederländer, die nur mit drei anstatt der erlaubten fünf Teilnehmer angetreten waren, kamen mit 62 Punkten auf Platz 4. Eine besondere 'Einlage' stellten die spontan ins Leben gerufenen COVID Trail und Pleasure Klassen am Samstagabend dar. Diese wurden von Judith und Marko Kaiser gesponsert, die neben der American Quarter Horse Association und CR Saddles Hauptsponsoren dieser EM waren.
"Mit diesen Klassen wollten wir bewusst auf die schlimmste weltweite Pandemie seit Menschengedenken eingehen und unsere Dankbarkeit für die Rückkehr zur Normalität ausdrücken und dafür, dass dieses Turnier überhaupt durchgeführt werden kann", so Markus Müller. "Die Hälfte der Startgelder geht als Spende ans Fraunhofer Institut für Forschung, die gerade Medikamente gegen SARS-CoV-2 entwickeln. Diese Spende wurde auf EUR 2000 aufgerundet durch Judith und Marko Kaiser, denen wir ganz herzlich dafür danken. Bei dieser Gelegenheit möchte ich mich auch ganz herzlich bei den viele Klassen- bzw. Buckle-Sponsoren bedanken! Euer Engagement ist großartig!"
AQHA mit Service persönlich vor OrtAuch die American Quarter Horse Association war wieder persönlich vor Ort (AQHA Director of International Activities Sierra Kane und AQHA Manager of Multilingual Resources and Communication Ashley Baller) und lieferte besonderen Service, der von den Mitgliedern rege in Anspruch genommen wurde.
Alle European Champions und mehr unter http://www.ecqh.eu
FEQHA European Champions 2021
OPEN
Junior Trail Open
European Champions Nina Drangmeister & Black N Silver Only
Silver medal Rikke Benjaminsen & Vegas Best Showgirl
Bronze medal Lena Bögl & GQH Lopin Gracious
Senior Trail Open
European Champions Sabine Lohninger & lope For The Blues
Silver medal Arne Kühn & HC A Gleam Of Hope
Bronze medal Anna Gürlich & Blaze The Show
Ranch Trail Open
European Champions Janine Petschnig & Spark What Else
Silver medal Linda Leckebusch-Stark & RS Broadway Blue
Bronze medal Chantale Wellauer & Grand Revolution
Junior Hunter Under Saddle Open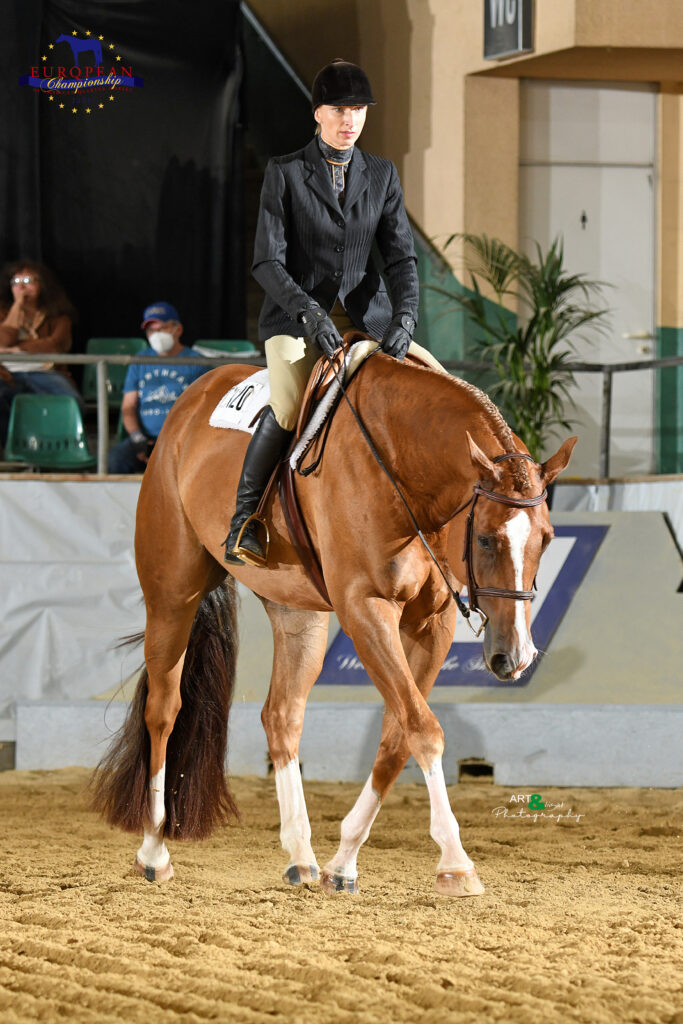 European Champions Jadasa Jablonowski & I Look At Hoo
Silver medal Nina Drangmeister & Black N Silver Only
Bronze medal Rikke Benjaminsen & Vegas Best Showgirl
Senior Hunter Under Saddle Open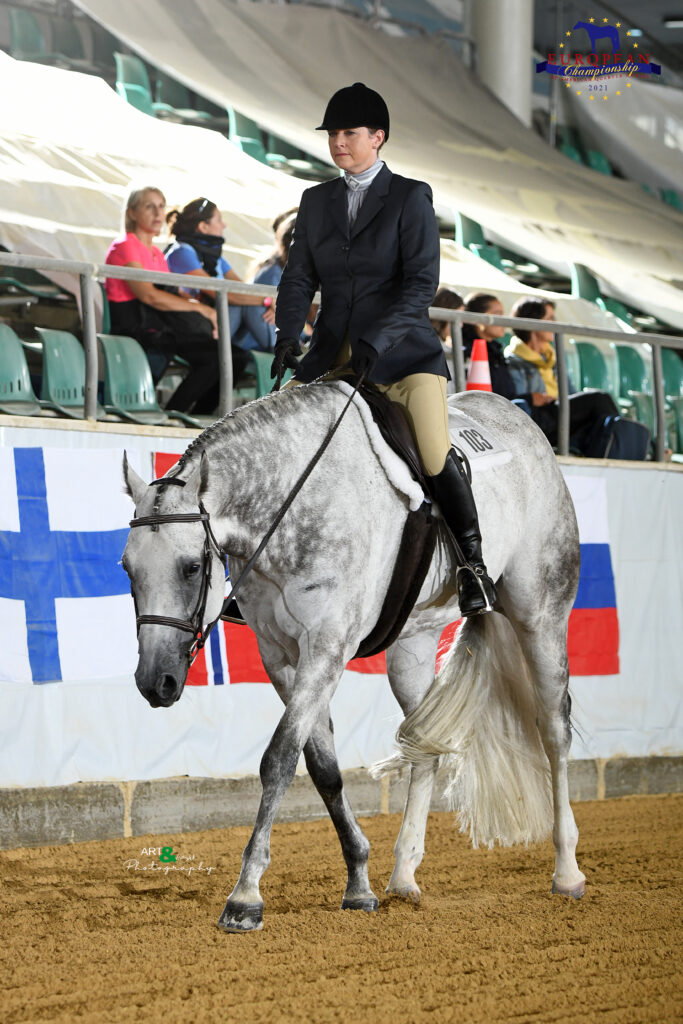 European Champions Sylvia Eigler & Celebreties Only
Silver medal Melanie Bartholatus & A Krymsun Career
Bronze medal Franca Bartke & Once Upon A Walk


Junior Ranch Riding Open
European Champions Linda Leckebusch-Stark & RS Broadway Blue
Silver medal : Barbara Hengge & Whiz Shiny Spook
Bronze medal Christina Gruber & Revolution N Gold
Senior Ranch Riding Open
European Champions Lynn Troppenz & Dun It Primo Style
Silver medal Carlotta Gerdes & Legend Olena
Bronze medal Janine Petschnig & Sailin Tucker
Junior Western Pleasure Open
European Champions Karin Prevedel & Shez Hot N Sudden
Silver medal Mark W Shaffer & Jet Settin Moonlite
Bronze medal lisa Marcuzzi & Honolulu Lazy
Senior Western Pleasure Open
European Champions Mark W Shaffer & Ona Lazy Cowboy
Silver medal Karin Prevedel & KM Happy Hour
Bronze medal Nikol Pavlikoá & Batt Ur Lashez
Hackamore/Snaffle Bit Reining Open
European Champions Christof Valtl & Lena Shining Gun
Silver medal Volker Schmitt & The Mobs Capone
Bronze medal Steve Ouellet & Dressed With Guns



Junior Bit Reining Open
European Champions Nina Weber-Lill & Invredible Spook
Silver medal Volker Schmitt & Need Some Cash Today
Bronze medal Berni Ostermaier und American Express



Senior Reining Open
European Champions   Christina Gruber & MS Sesolita Fury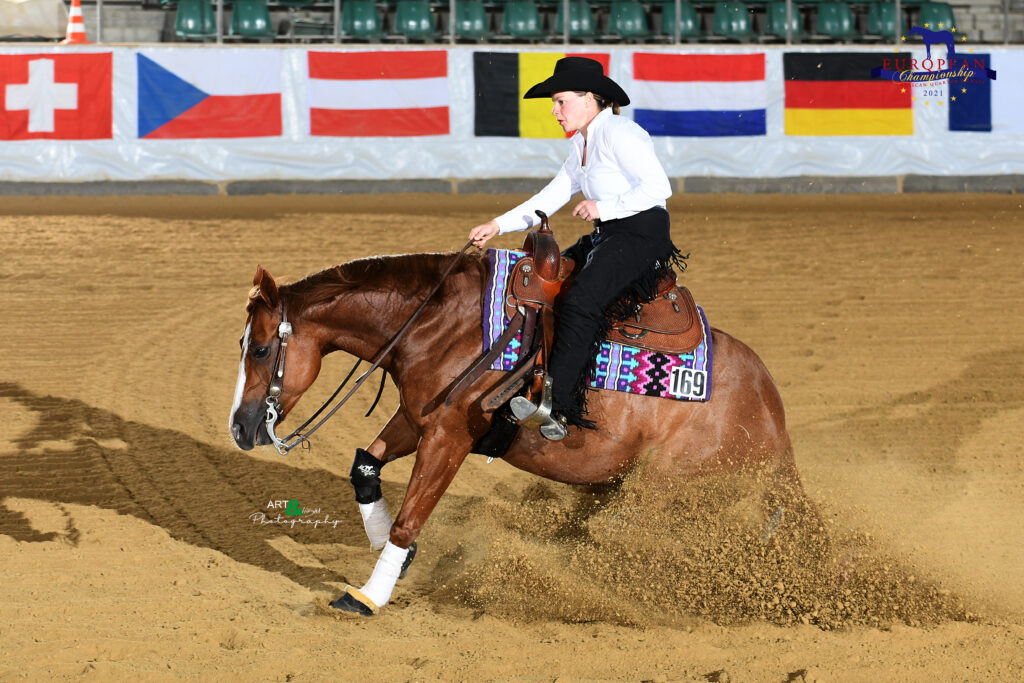 Silver medal Volker Schmitt & Ruf Peppy Whiz Star
Bronze medal Steve Ouellet & Lil Bubble Gun
Junior Western Riding Open
European Champions Christina Gruber & Jet Settin Moonlite
Silver medal Rikke Benjaminsen & Vegas Best Showgirl
Bronze medal Jessy Goossens & Select By Flatline


Senior Western Riding Open
European Champions Lisa-Marie Georgi & Snap Dragon Junior
Silver medal Valerie Elisabeth Bartholatus & Loping N The Shadows
Bronze medal Jadasa Jablonowski & Only Guns N Roses



AMATEUR
Trail Amateur
European Champions Mirja Bassing & Only Guns N Roses
Silver medal Valerie Elisabeth Bartholatus & Cocky Tabaluga
Bronze medal Myra Rautenberg & Smart Matt O Lena
Showmanship At Halter Amateur
European Champions Francesca Romana Faro & Am I A Hot Krymsum
Silver medal : Franziska Götz & Kings Finest Joy
Bronze medal : Jennifer Schranz & An Awesome VP


Western Horsemanship Amateur
European Champions Sophie Gillioz & Power In The Canyon
Silver medal : Jennifer Schranz & An Awesome VP
Bronze medal : Charline Klahr & Dont Skip My Party

Ranch Riding Amateur
European Champions Tanja Braune & Best Black Spook
Silver medal : Jessica Dorothea Bartholatus & Moments Of Glory
Bronze medal : Andrea Giesecke & Funny Little BH




Western Pleasure Amateur
European Champions Lisa Wiesinger & KM Happy Hour
Silver medal : Verena Schenkel & BabysGotherRayBansOn
Bronze medal : Fabrice Gagnant & Zipp Code
Ranch Trail Amateur
European Champions Krisztina Nagy & ER Silver Darling
Silver medal : Andrea Giesecke & Funny Little BH
Bronze medal : Verena Scholl & LV Scater Boy



Reining Amateur
European Champions Markus Dünser & LMD Millhouse Jac
Silver medal : Lars Steiger & Dual Tuck Tari
Bronze medal : Simona Neumüller & Vivaladiva




Hunter Under Saddle Amateur
European Champions Daniela Rohrseitz & I Look At Hoo
Silver medal : Ronja Schmid & Dont You Doubt Me
Bronze medal : Nina Drangmeister & Black N Silver Only


Hunt Seat Equitation Amateur
European Champions Laura Pfeifer & Fashionable Irons
Silver medal : Charline Klahr & Dont Skip My Party
Bronze medal : Melanie Bartholatus & A Krymsun Career


Western Riding Amateur
European Champions Valerie Elisabeth Bartholatus & Loping N The Shadows
Silver medal : Jan Niklas Barre & RR Party Of One
Bronze medal : Jennifer Schranz & An Awesome VP
AMATEUR SELECT
Showmanship At Halter Amateur Select
European Champions Angela Behrend & Sweet Dun Pepolena
Silver medal : Jeanette Svenneskog & Famous Chip
Bronze medal : Pia Schorno & A Good Sunset
Western Horsemanship Amateur Select
European Champions Andrea Giesecke & Funny Little BH
Silver medal : Pia Schorno & A Good Sunset
Bronze medal : Kirsten Waltenspühl & Winwise
Reining Amateur Select
European Champions Reto Erdin & Desire Big Chex
Silver medal : Reto Erdin & Saturdaynight Tag
Bronze medal :             Rebekka Blumer & Smart As Einstein
Trail Amateur Select
European Champions Pia Schorno & A Good Sunset
Silver medal : Isabella Platteter & Prettymutchgoldenjac
Bronze medal : Kirsten Waltenspühl & Winwise


Western Pleasure Select Amateur
European Champions Philipp Roos & Rojo Solo Cup
Silver medal : Jeanette Svenneskog & Famous Chip
Bronze medal : Pia Schorno & A Good Sunset
YOUTH
Trail Youth
European Champions Alexandra Mascher & KH Corona Kid
Silver medal : Stella Pfeffer & Smart Zip Rose
Bronze medal : Carlotta Gerdes & TL Anni Getyourgun


Showmanship At Halter Youth
European Champions Amalie Tange Veier & Pines Great Whiz
Silver medal : Desiree Leiner & Heskeboshotmarlana
Bronze medal : Lorenza Tedeschi & CPR Dressedlikeaboss
Western Pleasure Youth
European Champions Leontyna Tanko & Ona Lazy Cowboy
Silver medal : Nikol Pavlicová & Batt Ur Lashez
Bronze medal : Eva Vantoortelboom & Gonna Be A Romeo
Western Riding Youth
European Champions Desiree Leiner & Heskeboshotmarlana
Silver medal : Lea Tanner & Haryley Invitation
Bronze medal : Carlotta Gerdes & TL Anni Getyourgun
Western Horsemanship Youth
European Champions Tatjana Sidler & Dual Springtime
Silver medal : Amalie Tange Veier & Pines Great Whiz
Bronze medal : Leontyna Tanko & Ona Lazy Cowboy
Hunter Under Saddle Youth
European Champions Janina Bartenstein & Privat Dancer
Silver medal : Carlotta Gerdes & TL Ride A Hot Harley
Bronze medal : Luca Kempfer & TL One Hot Investment


Hunt Seat Equitation Youth
European Champions Thea Marie Friedrich & Larks Zippo Sue
Silver medal : Martina Giuggia & Asian Blaze
Bronze medal : Amalie Tange Veier & Pines Great Whiz
Ranch Riding Youth
European Champions Louisa Gerdes & Legend Olena
Silver medal : Thea Marie Friedrich & Larks Zippo Sue
Bronze medal : Tatjana Sidler & Dual Springtime