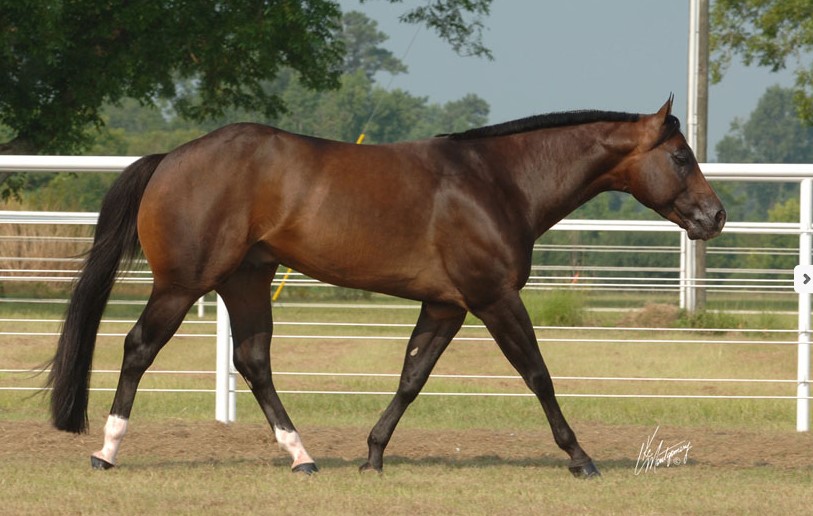 1. Machine Made
2007 geborener bay Hengst von A Good Machine aus der Gypsys Little Image by Good Version. Machine Made gewann selbst $ 45.466 in der Show Arena, ist ein Superior Western Pleasure und Western Riding Horse und war u.a. 2016 Level 2 Champion Amateur Western Riding. 2019 verdienten seine Nachkommen über $ 200.000. Top Money Warner war die 2016 geborene Stute Forever Kool mit $ 17.352.
Der 2002 geborene bay ist ein Sohn von A Sudden Impulse aus der Zip N Therapy by Therapy, der über $ 100.000 in der Show Arena gewann. Mit $ 155.713 liegt er mit seinen Nachkommen auf Platz 2 im Jahr 2019. Top Money Earner war der 2016 geborene Wallach KM Betcha Im Best. Seine Tochter KM Weknowsheshot war zwei Mal AQHA World Champion Select Western Pleasure.
3. No Doubt Im Lazy
Die Nachkommen des 2006 geborenen bay Hengstes (Lazy Loper x No Doubt Im Magic by Magic Mac Reynolds) brachten es 2019 auf $ 139.945. Top Moneay Earner war die Stute Knockin It Out, die $ 46.193,43 gewann. No Doubt Im Lazy war 2008 AQHA World Champion 2-year-old Western Pleasure
4. Lazy Loper
An vierter Stelle liegt mit $ 125.190 der 2001 geborene bay Lazy Loper (Gota Lota Potential x Hint Again by Hint Of Conclusive). Top earner war der 2016 geborene Hengst Shootin The Breeze mit $ 37.478.
5. Batt Man
Der 2006 geborene bay von Good Version aus der Custom Maid Rodder by Radical Rodder gewann über $ 11.000 in der Show Arena. Seine Nachkommen brachten es 2019 auf $ 120.013. Top Earner war mit über $ 17.000 die Stute Chattanooga Lucy.
Foto: RL Best Of A Sudden, von Waltenberry – cortesy Masterson Farm