American Quarter Horse Legenden: Smart Chic Olena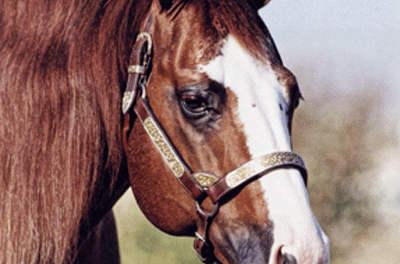 Der 1985 geborene Smart Chic Olena (Smart Little Lena x Gay Sugar Chic by Gay Bar King) prägte die American Quarter Horses Industry wie wenige andere. Nach einer großartigen Karriere in der Reining und Cutting Arena wurde er zum legendären Vererber.  Smart Chic Olena war 1990 AQHA World Champion Senior Cutting and 1993 World Champion Senior Reining – keinem anderen Pferd in der AQHA Geschichte ist das bisher gelungen. Seine Nachkommen erbten seine Vielseitigkeit wie sein Talent und gewann in Reining, Cutting und Cowhorse über 13 Millionen Dollar. Smart Chic Olena ist NRHA und NRCHA Hall of Famer und jetzt auch AQHA Hall of Famer.
Smart Chic Olena (Foto J. Brasseaux)
Smart Chic Olena wurde von Emily Woodall in Texas gezüchtet. Sein Cutting Talent brachten die Trainer Bill Glass, Bill Freeman, Dell Bell und Randy Butler zur Geltung. Den Schliff für die Reining Arena erhielt er von Craig Johnson. Der Fuchshengst gewann insgesamt $ 167.471 in Cutting, Reining und Reined Cow Horse. Bereits 2004 wurde Smart Chic Olena NRCHA Million Dollar Sire und in die National Reining Horse Association Hall of Fame aufgenommen. Am 24. Juni 2012 musste er eingeschläfert werden. Er wurde 27 Jahre alt.
Video zu Smart Chic Olena unter Craig Johnson
Smart Chic Olenas Nachkommen brillieren in Reining Cutting und Cowhorse. Er brachte NRHA und NRCHA Futurity Champions wie Smart Spook, Chic Please, Smart Zanolena, Chics Magic Potion und Smart Crackin Chic.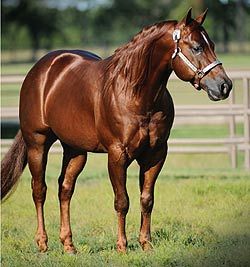 Smart Spook – einer der erfolgreichsten Söhne von Smart Chic Olena
Seine Töchter haben sich selbst als Producerinnen erwiesen. So zum Beispiel Collena Chic Olena, die Mutter von Wimpys Little Chic (All-time leading money-earning reining horse). Derzeit ist Smart Chic Olena NRHA 6 Million Dollar Sire und NRCHA 2 Million Dollar Sire.
Wimpys Little Chic – eine Enkelin von Smart Chic Olena (Foto: Waltenberry)