Missouri Foxtrotter Legends: Zane Grey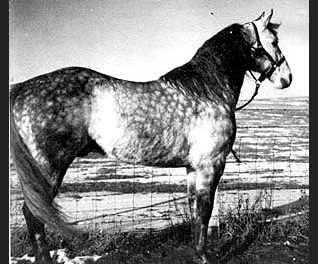 (Ramona Billing) Mit Zane Grey beginnen wir eine Serie über große Missouri Foxtrotter. Der graue Hengst mit der Registrierungsnummer 2815 zählt noch zu den Oldtimern und schied zu seiner Zeit die Geister: "Zane Grey was the most controversial horse the breed had seen", sagte sein Besitzer Dale Esther in einem Artikel über ihn, der 1998 in The Trainer's Voice erschien. "People loved him or they hated him. They thought he was either the wave of the future or the road to destruction." Zane Grey sollte jedoch allen Kritkern zum Trotz maßgeblichen  Einfluss auf die Zucht haben. In fünf zeugungsfähigen Jahren brachte er 285 Nachkommen – eine beachtliche Zahl in einer Zeit, in der es noch keine künstliche Besamung gab. Sein berühmtester war Missouri Traveler E. (Registrierungsnummer 6408), der bis heute die Missouri Fox Trotter Zucht dominiert und beeinflusst hat wie kein anderer.
Zane Grey wurde im Mai 1964 geboren. Er war ein Sohn des Tennessee Walker Hengstes Sterling Merry Boy aus der Lady Ann, einer Tochter des World Champion Senior Stud Golden Governor, die mütterlicherseits Saddlebred-gezogen war.  Zane Grey wurde mit sechs Monaten an Dale Esther verkauft. Der Hengst wurde als Dreijähriger Grand Champion Stake Class und World Grand Champion auf der Fox Trot Celebration 1968.
Dazu Dale Esther: "He fox trotted the first time I rode him, but he had a big overstride and a headshake that moved my hands four inches. I thought he was a phenomenal horse, but I wasn't naive enough to think that everybody else would agree." Doch genau diese Art, sich zu bewegen, sollte Zane Grey seinen Platz in der Geschichte des Fox Trotters sichern.
Zane Greys erstes Fohlen Diamond Duke (aus der Diamond Head von Golden Rawhide) wurde 1971 World Grand Champion.Sein bester Nachkomme sollte jedoch der große Missouri Traveler E. werden. Zane Gey starb am 28. März 1973 nach einer Darmverschlingung.
Die Missouri Fox Trotting Horse Breed Association nahm Zane Grey 2013 in ihre Hall of Fame auf.  Bei der Aufnahmezeremonie sagte Joyce Graening über den Hengst: "In his short lifetime, Zane Grey was considered by many to be the greatest stallion in the history of the breed.  He sired a line of championship horses, including Missouri Traveler E, who consistently passed on the big lick stride and hind leg over reach. Because of his contributions to the Missouri Fox Trotting Horse Breed and upon the recommendation of the MFTHBA Board of Directors, we would like to welcome Zane Grey into the MFTHBA Hall of Fame."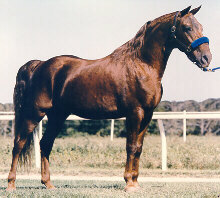 Missouri Traveler E. – Zane Greys berühmtester Sohn