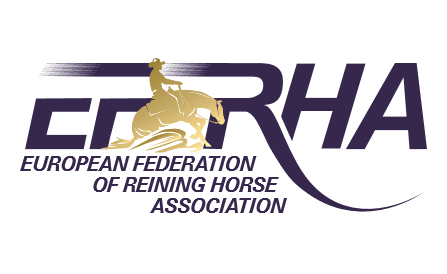 (Ramona Billing) As a lot of non-German speaking reiners were asking me for translation of the information published in an interview yesterday on the NRHA Germany website www.nrha.de, here we go:
There is finally some information from the recently founded European Reining Horse Association (EFRHA) in an interview with NRHA Vice president Gerd Wilhelm who is also one of the three founders of EFRHA. The interview was made by the NRHA Germany press office and published upon their website last night together with an invitation for NRHA Germany members and SSP stallion owners to an info event on November 12, 2016 at  D-65719 Hofheim-Diedenbergen (2 p.m. at the Ramada Hotel Frankfurt Airport West, Casteller Straße 106).
Here the infos in short (please refer to www.nrha.de):
*  EFRHA = European breeding program which is to include the German SSP, the Italian IRHBA and the NRHA European Foal Nomination Program .
* Stallions and foals are paid in to get the nomination for the big Futurities and Derbies. Foals by stallions not entered into the program, can be nominated as well but for a hgher fee. All events are NRHA approved.
* Nomination fees will form the purse of these events. Each affiliate of this program will get a 25 per cent refund of the fees paid in its country.
* EFRHA's only purpose is administration of the fees of this program, thus no competition with NRHA USA or NRHA Germany.
*  NRHA USA shall concentrate more on tasks like Show Rules, Judging System, Earnings, etc . Regions like Europe will be more independent in the future as well as more responsible of their regional affairs. In 2017, NRHA Germany will be the organizer of the  NRHA European Futurity
* In the future, the big shows will melt together: Breeders Futurity with Euro Futurity, Italian Derby with Euro Derby
* existing national and international breeding programs will be included in the European program, if the Affiliate wants this. Germany and Italy will be the first to start this. In 2021, there will be the first shows financed by EFRHA. Until then shows will run according to existing rules and treaties.
* Distribution of nomination fees: 25 % refund to Affiliate country of the nominating person, the other 75 %: 12 % for purse of  3-year-old Snaffle Bit Futurity, 33 % for 3-year-old Futurity Bit , 33 % for 4-year-old Futurity Bit, 22 % for Derby. Goal: One million Euro purse for all shows